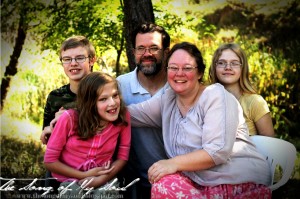 Our mold story, "all in one place" 🙂 is here: http://paradigmchange.me/lc/upton/
An interview I did on another mold website is here: http://www.moldsensitized.com/killing-mold-is-dangerous/
I live with my family in the lovely Black Hills of South Dakota.
I grew up south of St. Louis, in the lush Missouri countryside. My parents surrounded me with love, beauty, and Scripture—the Word of God. My sister, brother, our friends, and I played in the creek, explored the woods, and made up our own mysteries (or played tricks on each other!) I loved playing piano—especially piano/violin duets with Dad, reading with Mom and Cathy, learning ballet, and riding Mom's horse.
In 1988, I met Steve at Taylor University. We were both music majors; he was two years ahead of me. Wouldn't you know it—I had lots of questions about music theory, and I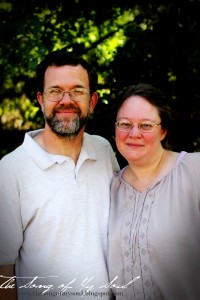 knew Steve had to be just the guy to ask for help. 🙂 (The secret is, before Steve even met me, Steve's academic adviser told Steve he should ask me out. Good call, Dr. H! :))
Steve graduated from Taylor in 1991 with a Bachelor of Music in Education, and I graduated in 1992 with a Bachelor of Arts in Music and a Piano Pedagogy Certificate. We were married in June 1992.
We were blessed with the births of Nathan in 1997, Alyssa in 2001, and Sarah in 2005.
During this time, Steve earned 34 hours toward a Masters of Theological Studies in Worship and Liturgy at Tyndale College and Seminary.
In 2008/09, I became very ill. Over a year later, we found out that the main cause was hidden mold in our home. By then, I had suffered Toxic Injury from the mold and acquired full-blown, disabling Multiple Chemical Sensitivity (MCS). It changed all of our lives dramatically.
But, being too sick to get out of bed prompted me to pursue another passion–writing! It started with a story I had begun writing in Jr. High, an old laptop, and a black typewriter stand…. (Thank you, G.K.!!!) And Mom and Dad, aren't you glad you finally know who the Library Thief is? 🙂
I also enjoy editing/proofreading for several other writers.
We have homeschooled our children since Nathan was in Kindergarten. At the time, Steve worked full-time at a church, so he worked long Sundays and frequently worked Saturdays preparing for Sundays. We wanted more family time than that would allow, so homeschooling made sense. (We took Fridays off and did school on Saturday.)
Lo and behold, I found I absolutely loved homeschooling! Seeing that look on my own children's faces of, "Oh, NOW I get it!" is just priceless. Homeschooling is flexible and fun, and figuring out ways to teach is a creative outlet.
In January 2010, Steve quit his job because he needed to take care of me and Sarah. Sarah has spina bifida (myelomeningocele), hydrocephalus, neurogenic bladder, hypotonia, NV Learning Disorder, Chiari II Malformation, scoliosis, and seizure disorder. She likes to army crawl, and she uses her little, pink wheelchair when out doing errands with Daddy.
She has had 12 surgeries so far and innumerable seizures; seizure medications have been tricky in her case, but she is relatively stable now–praise God!!! She sees 6 specialists in Rapid City and 2 in Sioux Falls, and we are grateful for every one of them!! She wins the hearts of nurses, doctors, & other staff with her outgoing, happy personality.
Steve plays piano sometimes at our church (Southern Hills Evangelical Free Church, in Hot Springs, South Dakota) and takes care of Sarah's and my many, many needs. He is also a fantastic cook and super editor.
Nathan enjoys music, Legos, baseball, technology, and reading. Alyssa likes reading, drawing, horses, Legos, and piano. Sarah likes people, music, Legos, helping cook, and having someone read to her.
Writing projects:
December 1944, Budapest, Hungary (short story)

(free on this blog)

The Silly Sheep and four more in the mystery series planning

The Plate (funny picture book)

illustrating

8 more fun picture books

planning

God's Special Children–Spina Bifida (picture book) looking for illustrator or publisher

God's Special Children–Surgery (picture book) looking for illustrator or publisher

Autumn Day (picture book about a day in the life of a homeschooling family) looking for illustrator or publisher

Winter Day (picture book sequel to Autumn Day) looking for illustrator or publisher

Spring Day (3rd picture book in the series) looking for illustrator or publisher

Summer Day (4th picture book in the series)

plannin

g

Writing project for someone done and awaiting publication

MCS: Banished from the Human Race (non-fiction)

writing/editing

Special Needs, Grief, & Children (non-fiction)

planning

The Plan (working title; fiction novel for adults)

planning and slowly writing
Save
Save
Save
Save
Save