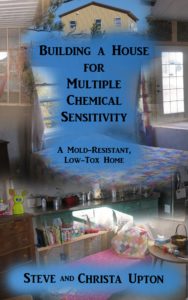 So, science.
Firstly, Corrine's house with mold problems that she had to repair had three significant variable differences compared to ours: insulation type, insulation sufficiency, and climate. There may have been other variables as well, such as ventilation/interior humidity, interior w
all materi

al,
and type of siding. (I think her siding was wood.)
Her insulation that grew mold was denim; mine is wool. These two types of insulation are vastly different. Denim does not easily release moisture; wool does.
In her home tour video, she says that there was not enough insulation in her house, which resulted in very high heating costs. Insufficient insulation is a well-known cause of condensation/moisture problems.
These two variable differences negate the comparison between her house and mine. Therefore it is foolish to draw a relationship & evaluation claiming to have a scientific reason for why our house needs rainscreens or interior vapor barrier.
I feel bad that the insulation in the tiny house failed, but it really doesn't have anything to do with our experts and research on wall construction.
In addition, the moldy tiny house was in a very humid climate; I live in a dry climate. In the book, several times I mention to the reader they may want to consider a dry climate and/or that what we state in our book may not work in a humid climate. However, if done properly, our house design could work in a more humid climate, I truly believe.
Secondly, Corrine's statement in general about metal walls needing rainscreens and interior vapor barrier (for cold climates) is far from proven.
Time & time again I have found articles that state that diffusion of warm interior air through walls in the winter is rarely a cause of moisture problems in walls. Some of these articles are referenced in my book.
Another article:
"Interior vapor barriers are rarely necessary, since wintertime vapor diffusion rarely leads to problems in walls or ceilings. A different phenomenon — summertime vapor diffusion — turns out to be a far more serious matter."
www.greenbuildingadvisor.com/blogs/dept/musings/when-sunshine-drives-moisture-walls
Solar vapor drive can be a major problem for houses which have breathable siding in mixed climates where an interior vapor barrier was installed for winter. Regardless of "categorization," many climates are mixed: needing heat in winter & air conditioning in summer.
According to one article,
https://ag.purdue.edu/extension/eden/Mold/Moisture_Problems.pdf
with R-11 & R-19 insulation, a winter indoor humidity of 90% would be required to cause diffusion-related condensation problems inside walls. Our wall insulation is R-19 (our attic insulation is around R-38), & our indoor humidity never gets to 90% but possibly for brief moments in the bathroom.
With the information in the above articles, I believe the interior side of the siding will remain dry because not enough diffusion of vapor happens through the wall & insulation in the winter to create significant condensation, normally. I also believe the unique properties of wool insulation give us extra protection.
(3/12/17 update: The walls have indeed stayed dry. See related blog posts for details.)
In conclusion, the use of vapor barriers is extremely controversial, and I prefer to have my vapor barrier not on the inside (where I can control humidity) but rather on the outside (where I cannot control humidity)–the steel siding blocking rain and humidity from entering my walls.
Christ
a
Upton Bl
a
ck Hills Picture Books Edgemont, SD 57735
Save
Save
Save