Even the lowest-chemical dish soap we can find makes me sick.  Thanks to my friend Ruth M., I gave Castile another chance!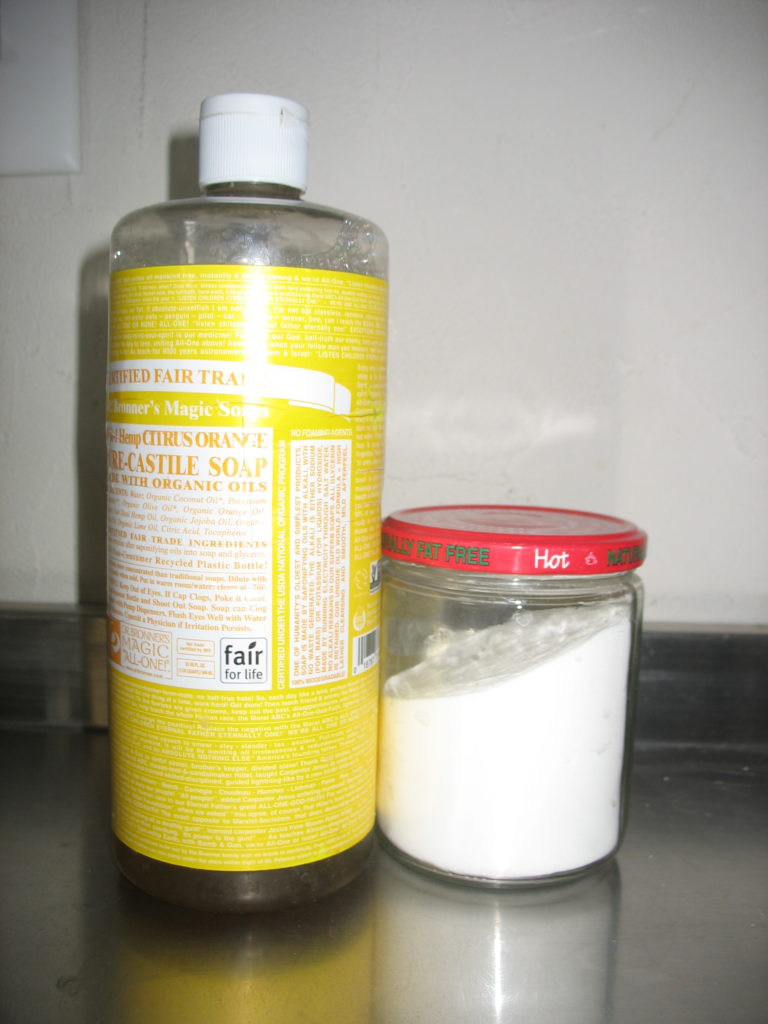 The grease is hard to cut with Castile.  Ideas that have helped me:
When clearing dishes, don't put non-greasy dishes in/near greasy ones. (I.E.—don't put a cereal bowl in last night's greasy casserole dish that is soaking.)
Wipe greasy dishes with a paper towel before even putting in/near the sink.
Do NOT fill a sink with water and squirt Castile in. The large amount of water basically makes Castile ineffective on dishes unless you use a very large amount.
Instead, squirt a good amount of Castile into a wet dishcloth.
Then, start with glasses, pots used for non-greasy cooking, and other non-greasy dishes. Use your soapy dishcloth to wash a glass, then rinse the glass but do not rinse the dishcloth. 
Next, do less-greasy plates and dishes. But with these, you can start by using baking soda only.  Sprinkle on dish, wipe with a SEPARATE damp dishcloth (not the Castile-soapy one) or your hand or a paper towel, rinse.  (To conserve water some, rinse over other dishes that might benefit from extra rinsing.)  Then wash with the Castile soap dishcloth and rinse of course.
If you begin to run out of bubbles in the dishcloth, add a little more Castile to the cloth.
If you begin to have trouble with grease, your dishcloth is probably greasy. Get a fresh one.
Lastly, tackle the greasiest pans. Start by scrubbing with baking soda. Then use the Castile.   You might still have trouble, but I have seen baking soda work some pretty good wonders.  🙂
Tired of reading the word greasy?  LOL  I am!
Using these ideas, I have been able to do a good many dishes with only a few squirts of Castile.
Castile is $57 a gallon, so yeah, conserving is good!  However, I don't resent the price.  It's Fair Trade, and human beings should be paid what their labor is worth.
Black Hills Picture Books     Edgemont, SD  57735