A number of people have asked me how we built our house. So, I thought rather than keep losing track of my posts on Facebook groups and re-writing about this, I'd blog it and can't lose it now! LOL
Of course if you want to try something like this, ALWAYS test materials for allergy, reactions, etc.
Update: since I wrote this post, we published a detailed book on this house, explaining over 40 precautions against mold and including many photos of the building process. Print version Digital version
Also find more information including free videos here.
Here is the short version of what we did:
Built up dirt so house above surrounding area (per foundation guy's great advice), installed underground drainage around house, graded/created water flow to flow all away from house (all for mold prevention on slab).
Put gravel under insulation/slab for capillary break.
Laid radiant heat "pipes" (used PEX) on insulation before slab poured.
Wonderful foundation guy did his recommended mono-pour, shallow, insulated slab foundation (plain cement, no additives).
Lester Buildings for the "shell"–wood framing, steel siding & roof, steel ceiling inside. http://www.lesterbuildings.com/ I don't know how small they go; ours is 30 X 40 (1,200 sq. ft.)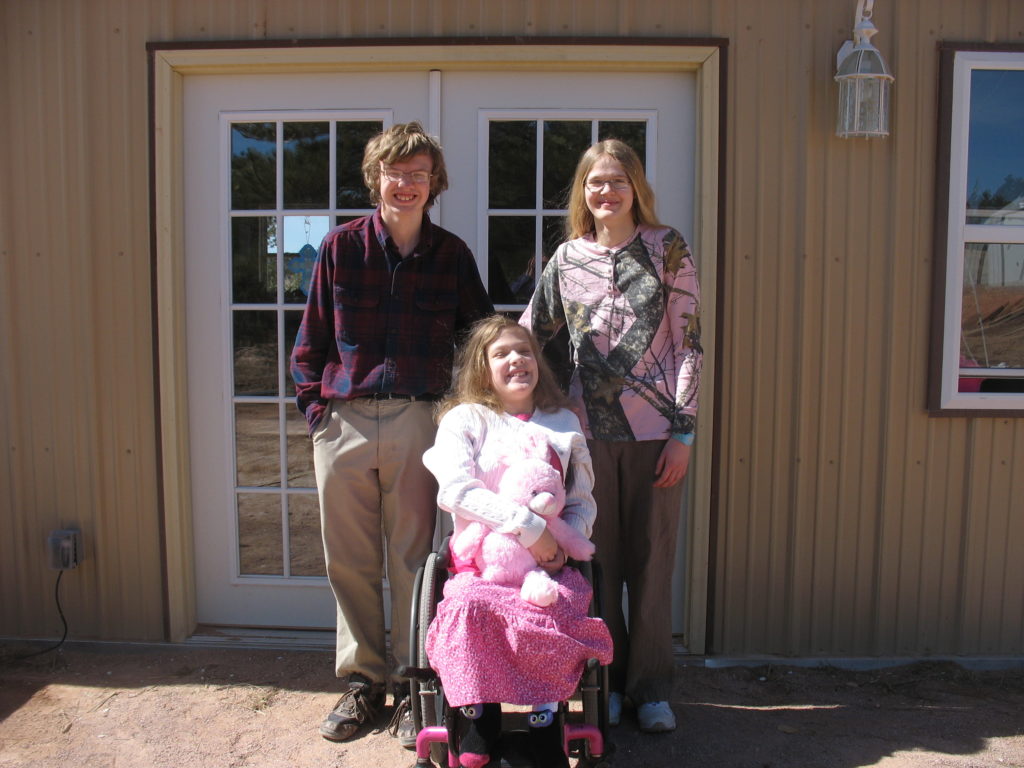 Built wonderfully by http://www.highcountryerectors.com/ based in Hot Springs, SD.
WASH the metals of release oils before using!!!! Vinegar did not work for me; Dr. Bronner's Castile soap did. http://www.luckyvitamin.com/p-24908-dr-bronners-magic-pure-castile-soap-organic-citrus-orange-16-oz Used a power washer (washed it out first).
Installed metal "Z" pieces around perimeter of foundation…protection against water getting to foundation and preventive barrier for pests.
Inside–
Metal lath "stapled" to interior framing.
Sheep's wool insulation (Oregon Shepherd http://oregonshepherd.com/ ) blown in behind metal lath and in attic.
Plain plaster (Structo-lite) applied to lath. A LOT of work, but I recently learned that among the other benefits, plaster is not as susceptible to mold as drywall. Drywall has cardboard on each side, and cardboard is mold food—ugh. Yay, plaster!!! https://www.usg.com/content/dam/USG_Marketing_Communications/united_states/product_promotional_materials/finished_assets/structo-lite-basecoat-submittal-P754.pdf
Ceramic/porcelain tile throughout, laid with plain cement/sand mortar. (Found odds and ends of tile on sale various places; I think we ended up getting most of it around $1 per sq. ft. Make sure NO lead or Microban in tile.)
"Vinyl" windows because it seemed a lot of mold risk with many of the cheaper metal windows. I covered the vinyl on the window by my bed with foil tape.
Metal doors, even on bedrooms. (from Habitat Re-store–pre-owned construction/building items and cheap! 🙂 )
Metal kitchen sink, counters, and cabinets. Exposed pipes so can be vigilant about leaks.
Porcelain tub (free-standing "claw foot"), sink, and toilet.
Vent fans vented to outside and insulated in the attic (so they don't create condensation and mold in the attic).
All light fixtures are glass and metal and could be washed (of potential mold or chemicals), so they all came from Habitat Re-store also. Toilet from there as well (CHECK for mold in tank, though!!!), and bathroom cabinet, etc.
More mold prevention, such as very little wood (except wood framing inside walls), etc. No landscaping by foundation, unless we figure out how to do some dry things (cactus, rocks).
It's a lot of old-fashioned things. Not surprising, since the bulk of chemicals in our world were created post-WWII.
Black Hills Picture Books Edgemont, SD 57735