So now, with a few exceptions (chocolate & rice crispy treats 🙂 ), sugar just doesn't sound good to me anymore. Even my favorite orange chicken recipe sounds too sweet to me now, and even ice cream doesn't sound good!!!
Wow, what happened?
It wasn't by avoiding sugar like crazy, because I didn't do that. I still have chocolate a lot because I can't drink coffee, don't like soda pop, and want the caffeine boost.
I think it was the sour power.
I have been eating sour probiotic foods (Bubbies pickles, for instance) every day for about 8 years. That probably helps, and of course that helps digestion. But it wasn't until recently that I experienced this feeling of REALLY NOT wanting the processed sugar….
Well, six months ago I began drinking lemon water all day. (Just fresh lemon juice and local spring water.) I  love it, and sometimes I put a LOT of lemon in. 🙂 I don't like to waste anything, and things can go moldy in the fridge in a few days. So we keep lemons in the freezer, thaw out one at a time, and use up before the 3- day mark.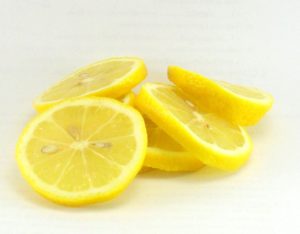 Someone told me lemon or something like that in the water helps the small intestine absorb the water. Laura Ingalls Wilder books mention something similar–something in the water (like for them–ginger, sugar, and vinegar) helps the body use it. Probably it is a similar concept to Gatorade. I DID feel better in the summer heat with the lemon!!!
Lately I've also been eating cranberry sauce for health reasons. It has sugar in it of course, but it still tastes mouth-puckeringly sour.
Sour–that's the only thing I can think that has brought this on.
It's effortless now, since protein, veggies, fruit, etc. sound much better to me than cookies, pies, or ice cream. In fact, right now I am craving protein like crazy. (I think because my body is rebuilding 12 years worth of ravages.) I couldn't be happier!!!
It might take 6 months of significant sour drinks/foods every day, but if anyone else tries this, I'd love to know if it worked for you.
Christa Upton   Black Hills Picture Books   Edgemont, SD  57735