I am so thankful for two sets of wonderful grandparents. Some people don't even have one. 🙁  For those, I hope they find neighbors or friends to "adopt" as grandparents.
"Grandma & Grandpa's House, 2"
The sunlight makes a patch of brightness on the front porch. I climb the stone steps, past the little spruce that smells so good in the warmth and the honeysuckle bushes with bright, red berries.
The old, screen door squeaks a familiar welcome, and Mom knocks on the door. Grandma's delightful laugh rings out as she and Grandpa usher us in with warm hugs.
I take a deep breath. Cantaloupe, old wood, and geraniums—a lovely perfume.
Grandma brings out newspaper clippings she has been saving: articles for each of us that we will enjoy. Grandpa laughs and jokes with Dad.
Then my sister and I go to explore all our favorite places: the secret place where Mom carved her name years & years & years ago, the fascinating library cove full of interesting things, the dormer window bed where Mom slept as a child, the special drawer full of toys Grandma and Grandpa have collected for us. Then the attic, hot and dusty and amazing.
After that, we go back downstairs to check out my favorite of all—the greenhouse. I love the greenhouse. There are no plants anymore, but I imagine them lining the long rows of shelves. I run along the paths in each building.
On the way back we go through the garage-like space that used to display the flowers for sale. It is the perfect backdrop for our annual plays we do for the adults. We remember the wonderful boxes of dress-up clothes in the basement. "Diamond"-studded blue velvet dress—always what the heroine wears, of course. A funny black-and-white striped jailbird outfit, vests, pants, old hats. We begin planning this year's play. Maybe our brother will even come up with some sound effects for us.
We check out the rest of the yard and a little space between the garages/greenhouses and the house. Just enough room in one place for a kid to climb through makes this a mysterious place, fun to hide from brothers and other dangerous things.
As we enter the sunny living room again, we smell roasting turkey. We help Grandma set the table with beautiful, pink rose-patterned china.  We all sit, happy to be together. After a prayer, Grandpa takes the platter of turkey.
"Well, here's mine, where's everyone else's?"
Everyone laughs.
Grandma begins to share interesting stories about town, her friends, their life. I eat slowly, savoring the delicious meal.
After cleaning up, someone asks about a walk. We all join eagerly. We walk down to Butler Park, enjoying the near-perfect weather and chatting.
Later, my sister and I ask if we can sleep on the porch. We're so excited Grandma says yes. We gather sleeping bags and pillows. We whisper and giggle as darkness falls. The church bell chimes. Crickets begin to sing, and we fall asleep, happy and safe and loved.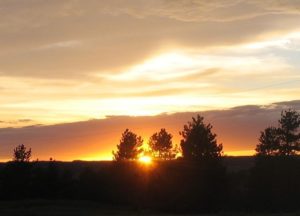 Christa Upton
Black Hills Picture Books
Edgemont, SD  57735