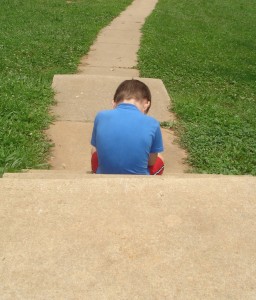 I was allowed to grieve as a child.
My Mom is one of the most compassionate people I know.
Whenever I would experience something difficult (kitty dying, really bad cases of poison ivy, hurt by a friend at school), my Mom helped me through.
Her kind words and empathy did many things for me.
Her words validated the fact that it is okay to be sad over things. (Even Jesus was sad!)
Her words and actions and taking the time to empathize showed me that she cared about what I was going through. She put aside her agenda to comfort me.
She showed me how to see things through another's perspective by looking at things through my perspective!
Her modeling of compassion helped me become a compassionate person.
Her acceptance and helping bear my sorrow gave me the strength to get through it.
Her warm hug helped me grieve the sorrow while yet knowing I was loved, helping me put the grief into perspective.
Neither she nor Dad were put off by my tears.
Take a look at this, from Jay Wile's well-respected science course for middle school children, Exploring Creation with General Science.
"Tears produced by strong emotions contain chemicals that do not appear (to any great extent) in tears produced by eye irritants. These chemicals include manganese (a chemical depressant), leucine-enkephalin (a chemical that helps control pain), and the adrenocorticotrophic hormone (a chemical produced by bodies under stress). When you get rid of those chemicals by crying, the net effect is to make you feel better. By releasing those toxins, then, the tears serve to chemically and physically make you feel less depressed! (Wile 377)"
WOW! Why have doctors not told us this?
If even we adults cried more, maybe there would be fewer people asking for antidepressants or pain pills or experiencing stress-related illnesses!
In this respect alone, it seems rather imperative to let children do what is natural AND healthy.
So, let us live by the maxim: "Let them cry!!!"
Wile, Dr. Jay L. Exploring Creation with General Science, 2nd Edition. Apologia Ministries, Inc.: Anderson, IN. 2008.
P.S.  Please pray because another stress has come up in our lives.  We're fine, but we need the Lord to provide help/wisdom.
Christa Upton Black Hills Picture Books PO Box 293 Custer, SD 57730