Lessons from Cutthroat Kitchen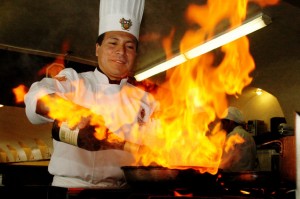 It's a really fun show, IMHO (Food Network TV show).  Alton Brown gives contestants a chance to throw all kinds of crazy constraints or difficulties on fellow chefs.  I really enjoy the show (although sometimes I feel sorry for the losers).
After many of the rounds, Alton says something like here's so and so great chef.  He is going to judge your food.  He doesn't know what you've been through, and neither does he care!  All he cares about is what on the plate.
Isn't that what life is like?
People don't know what you've faced or how hard you've worked; they just want results.
In America, there are many opportunities because of freedom.  But that still doesn't mean that even some Americans start life or start adulthood with HUGE advantages over other people.
This includes spiritual training, health, physical attributes, mental capabilities, talents, and childhood home (which could be filled with love or abuse or somewhere in between).
It is just one more way that life is sometimes unfair.  It can be discouraging, especially for those who try hard and are still looked down on, by other people.  Maybe this is you.
But, even if no other human being knows how hard you have tried, what you have overcome–God sees and knows.  He cares about your difficulties, and He sees your integrity even if no one else does.
He is ready and waiting to help you soar higher, even if you are never recognized on earth for your efforts.
And on the other side of the coin, what would happen if we DID take into consideration what others have gone through?  Would we appreciate how far some have come?  Could we encourage some strugglers instead of being frustrated with their faults?
Let's remember that God sees EVERY kindness and effort that we do, and let's look at others with as much understanding as we can.
Christa Upton    Black Hills Picture Books    PO Box 293   Custer, SD  57730