Solar cooking using a Solar Hot Pot boasts a number of advantages:
no electricity or fuel needed
no smoke or combustion by-products generated
little risk of burning food
concentrated flavors (yum!)
slight charring sometimes (yum!)
often decent browning, especially in the summer months (yum!)
And in addition to all that, I find it very fun!!!  It has been so interesting trying different foods and recipes.  So far, three of my favorites are:  Orange Sun Chicken, Sunny Yellow Quiche with Potato Crust, and Chocolate Sun Fondue.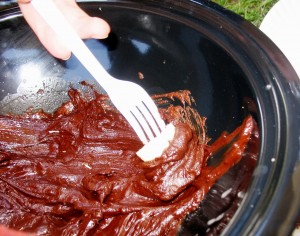 picture:  banana in Chocolate Sun Fondue in Solar Hot Pot
To find these and more recipes, go to my blogging page here:
http://www.solarcooker-at-cantinawest.com/solar_cooking_in_South_Dakota.html
and scroll down to the bottom for all my recipes and new posts.  I am on my 35th recipe now–Sunny Sausage Pizza!  It was very yummy.  Used the Solar Hot Pot for it from beginning to end–no microwave, stove, oven, or anything else.
I'm hoping to complete 50 recipes by October.  Planning no-bake cookies, baked oatmeal, and Pizza Sunbeans soon!  🙂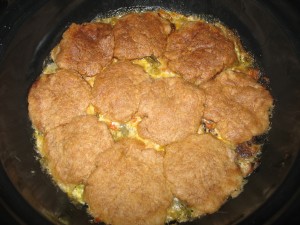 picture:  Chicken Hot Pot Pie in Solar Hot Pot
Christa Upton         Black Hills Picture Books       PO Box 293    Custer, SD 57730